---
The Investment Planning Summary Report is a core component of the Investment Dashboard. It provides users a quick summary of total planned spend. It shows how bottoms-up investment plans are aligned with top-down targets, allowing organizations to see if they are on track. Additionally, it shows which activity plans have been completed by entry of activity plan line items and areas where planning amounts have not yet met their targets.
Tip: Use this module to determine if you're on track with planned spend or determine where you're leaving money unplanned.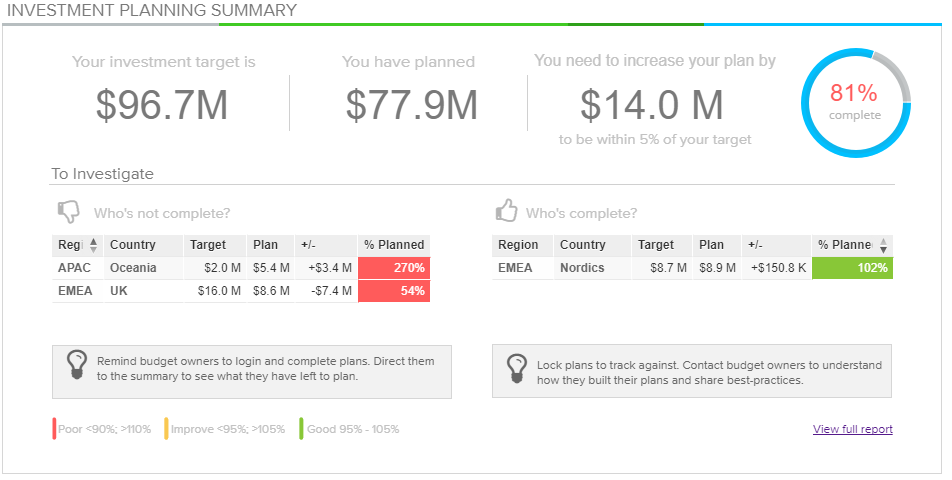 Note: Metric amounts seen in this module may vary between users in a single organization depending on their permission level. Each user will see an aggregate total plan amount for activity plans that they have access to edit or view.
Insights Explored
This module displays the investment target, as well as an aggregate of all money that has been planned to date between all line item activities.  It calculates the percentage complete within 5% of the investment target and shows the dollar value of unplanned spend.

Below the planning overview metrics are lists that display the top complete and incomplete activity plans within a given hierarchy or fiscal year. 
Investigate who's not yet completed their planning in Allocadia with the help of the "Who's not complete?" summary. This chart outlines activity plans which have less money entered in plan columns, than the target available within 5%, for any given budget. This allows you to assess whether additional campaigns need to be planned for a given business unit or if targets should be adjusted and funds moved to meet business needs.
In contrast, see which activity plans are complete and on track within 5% of the investment target.

Where Does the Data Come From?
The Investment Planning Summary displays aggregate total targets and planned costs from Activity Plans (Budgets) within Allocadia.
Required Features: Investment Targets and Plan Columns