---
The Strategic Alignment Planning dashboard focuses in on one metric of the investment mix, the Activity Objectives and how it contributes to Strategic Alignment. Strategic Alignment is about how top-down targets are connecting with bottom-up marketing plans. This dashboard specifically focuses on showing planned spend for each Objective and level of target completion.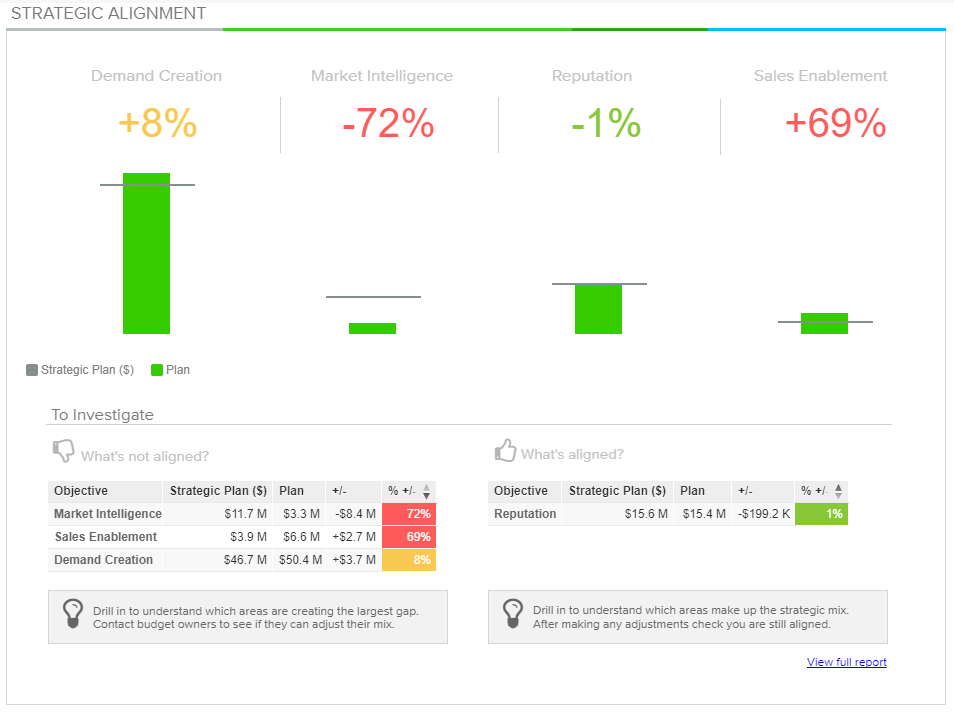 Insights Explored 
The bar graph shows the amount of spend that will address each Objective as well as a line to represent each objectives target. This is the same data from the Investment Mix but shown as a percentage.
Below the planned overview metric are areas "To Investigate", showing details about the top complete and incomplete Objective categories. 
Objectives that are over/under planned target by greater then 5% are categorized as "Not aligned", indicating that they require attention to reach the target. This allows marketers to decide if they need to plan more activities to address objectives or if the goal of current activities needs to be adjusted. 
Objectives that are within 5% of planned target will be categorized as "aligned".

Where Does the Data Come From?
The Strategic Alignment dashboard gathers data from the Objectives attribute under Details as well as Objective Targets from the Strategic Targets section of Master settings.
Required Fields: Objectives, Objective Target
Best Practice: Always fill in an Objective for all Marketing Activities to understand what marketing is achieving.